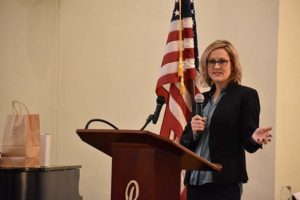 Bellecourt is proud to offer meeting accommodations to a wide variety of local groups large, small and everything in between. As part of our newest blog series we are focusing on each group to help promote their very worthy mission from business, to marketing to philanthropy and every other reason that like-minded people get together to strengthen their community. We spoke to Mark VanZyle of Bullseye Promotions and Marketing Coordinator for BNI Belleville to find out more about his dynamic, committed group of business people who meet weekly at Bellecourt Manor.
If your group of any size needs a place to call home whether it be weekly, monthly or occasionally please call Bellecourt Manor at: (618) 233-8490

What sets Belleville BNI apart from other networking groups?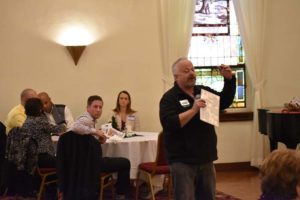 BNI Belleville is referral based marketing group that connects its members to the target audience and decision makers that they wish for and ask to meet. It's not referrals and introductions that are ineffective that go nowhere in the sales process. Its pre-qualified leads for the members to follow up on that increase the ability to close exponentially.
Sure, Chambers, Civic Groups, Associations and the like are great ways to meet other business owners and reps. But real business and money is made using the BNI Belleville model. We even track our referrals and close business to confirm our efforts pay off. We treat our weekly meetings like sales meetings. A little bit of fun and social time mixed in with a moment for each member to speak about their business and what they are focusing on that particular week.
Further, each week we allow 2 members to each get 7 minutes to expound on their talents and how they help out their  clients. We truly get to know the ins and outs of each member as if we were on their sales team. We close the meeting recapping what we did the previous week, how we helped out a member and giving testimonies on one of our members. Credibility is key in BNI, which leads to profitability.
What are the membership requirements?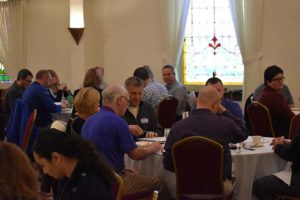 Members are required to attend our weekly meeting. Sure there are those events such as vacation, illness or unexpected events that arise but the members make sure they have a sub that can do the infomercial and keep some stability and cohesiveness until the member returns for the next meeting. Dues are charged for room rental and breakfast but we don't  charge for a visitor who is considering joining BNI. There is a yearly fee for being a member as well. Members have found once they get into BNI Belleville, the investment pays off quite well and often very quickly.
Are you actively looking for new members? 
We want to meet business owners and marketers for the Company they work for. We are constantly discussing what type of businesses we can have join our group as we have referrals we feel can give to them but simply wish for them to be part of our Chapter. We often give referrals to OTHER Chapter's members, that's how much we value the BNI system.
If a member can't join our group for various reasons, we do try to assist that person to find a different chapter where they can flourish.
Are there any particular fields that you are looking for?
The type of businesses we currently are looking for include but not limited to: veterinarian, auto body, florist, Commercial loan officer, office equipment, print media, sign company, limo driver, pet groomer, title company, web designer, lawn care and landscaper, home/office cleaning service and more!
What makes a great BNI member?
Activity! Doing 1-1's with other members, being inquisitive, opening doors for other members, practicing givers-gain. All these actions so often lead to business coming back to that member two fold. The member is there every week, not having a sub represent them more times than not. The member will use all the members to confirm the services being provided can be referred to their family, friends, and business associates. They share social media posts. They help their fellow members thrive! That type of member will see hard work and connections lead to huge boost to the bottom line. We truly are about the money but we don't make it the be all end all reason we do what we do every week. It's more of a bi-product of the efforts.
Tell us about your experience having your meetings at Bellecourt Manor.
We meet weekly at Bellecourt Manor and we truly are lucky and blessed to have them as our hosts. We show up every week and there is a hot breakfast awaiting us, a clean facility, and a smiling staff glad we're there. We have plenty of room for growth at this location, bright lighting, comfortable surroundings and A/V set up that works. Anyone who chooses to have a business meeting, wedding and special event will be treated with the utmost respect and be truly satisfied that they chose Bellecourt Manor. It's been a great partnership!
How should someone who is interested find out more? 
BNI Belleville meetings start at 8 am every Wednesday and it's suggested a visitor gets there at 7.30 or so to have time to settle in and really network with the 45+ plus members that are there. We've been known to give business to visitors so the more a guest can interact with us, the better the chances the time they invested can pay off.
If anyone has any questions or needs a member to reach out to, they can call Mark VanZeyl to learn more.
618-514-3007.